To configure your GSM modem to be able to send and receive MMS messages using one of the following providers, please open the "MMS settings" tab of the "GSM Modem configuration form" (Figure 1). On this tab, select "Custom settings" in the "MMS service provider" combo box!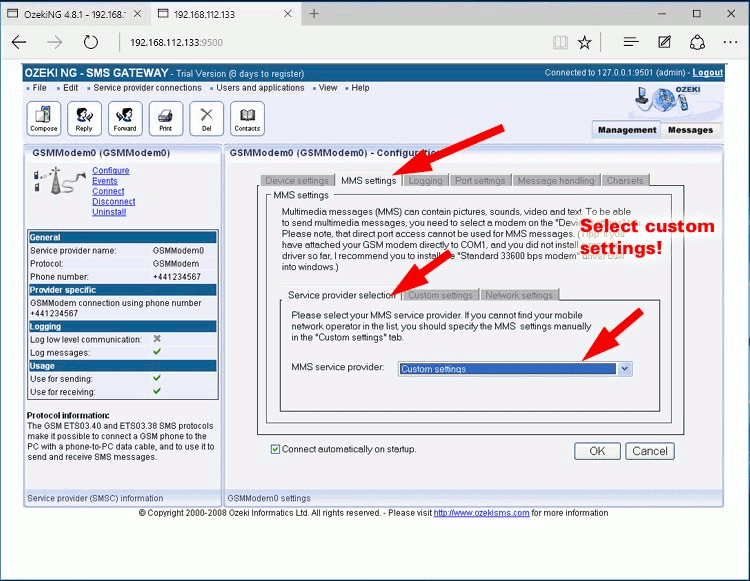 Figure 1 - Select Custom Settings in the MMS service provider combo box.
The next step is to select the "Custom settings tab" (Figure 2), and fill in the appropriate values for the GPRS APN, the MMSC url and the Gateway. These values can be found in the table bellow.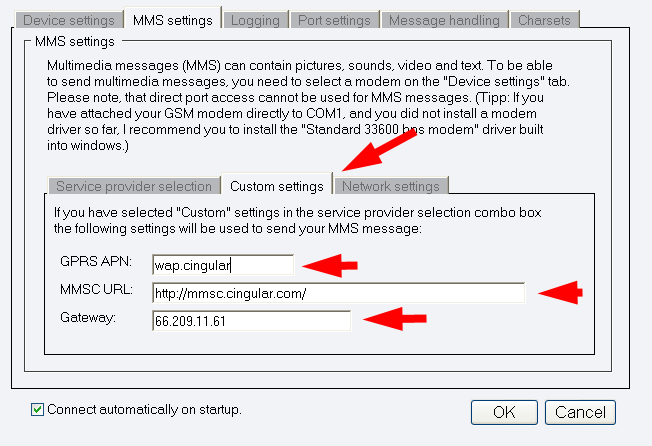 Figure 2 - Provide GPRS APN, the MMSC url and the Gateway.
Finally on the "Network settings" tab, enter the username and the password (Figure 3). If you use the same modem for MMS transfers as the one you use for SMS, make sure the "Use existing Internet connection for MMS transfers." checkbox is NOT checked.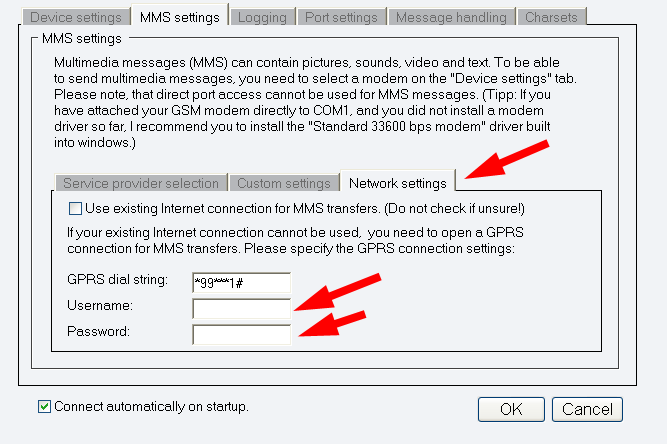 Figure 3 - Provide username and password.


Country
Provider Name
GPRS APN
Username
Password
Gateway
MMSC URL
Albania
AMC
mms
10.10.10.20
http://195.167.65.220:8002
Vodafone
vfalmms
10.0.9.2
http://mmsc.vodafone.al
Algeria
Djezzy
djezzy.mms
172.024.097.158
http://172.24.97.152:10021/mmsc
Nedjma
nedjmamms
mms
mms
192.168.52.3
http://10.10.111.1
Andorra
STA
mms
192.168.021.050
http://mms.ad/mmsc
Anguilla
Cable and Wireless
internet
10.20.5.34
http://mmsc
Antigua&Barbuda
Cable and Wireless
internet
10.20.5.34
http://mmsc
Digicel
wap.digicelantigua.com
wapant
wapant
172.16.7.12
http://mmc.digiceljamaica.com/servlets/mms
Argentina
CTI Movil
mms.ctimovil.com.ar
ctimms
ctimms999
170.51.255.240
http://mms.ctimovil.com.ar
Personal
mms
mms
mms
172.25.7.31
http://172.25.7.31/
Unifon
gprs.unifon.com.ar
mms
mms
200.68.32.239
http://mms.tmovil.cl/
Arub
Digicel
wap.digicelaruba.com
waparuba
wap03aruba
172.16.7.12
http://mmc.digiceljamaica.com/servlets/mms
Setar
mms.setar.aw
209.88.130.210
http://mms.setar.aw
Australia
Optus
mms
61.88.190.10
http://mmsc.optus.com.au:8002/
Telstra
telstra.mms
10.1.1.155
http://10.0.3.70:8002/
Three
3services
10.176.57.25
http://mmsc.three.net.au:10021/mmsc
Vodafone
live.vodafone.com
10.202.2.60
http://pxt.vodafone.net.au/pxtsend
Austria
A1 (MobilKom)
A1.net
ppp@A1plus.at
194.48.124.71
http://mmsc.a1.net
Drei
drei.at
213.94.78.133
http://mmsc
One
web.one.at
wap
wap
194.24.128.118
http://mmsc.one.at/mms/wapenc
Tele Ring
mms
wap@telering.at
wap
212.95.31.50
http://relay.mms.telering.at
T-Mobile
gprsinternet
10.12.0.2
http://mmsc.t-mobile.at/servlets/mms
Azerbaijan
Azercell
mms
10.0.154.101
http://mms.azercell.com/cMMSC/post
Bakcell
mms
213.172.91.46
http://mms.bakcell.com/mms/wapenc
Bahrain
Batelco
mms.batelco.com
192.168.1.2
http://192.168.36.10/servlets/mms
Bangladesh
Aktel
WAP
192.168.23.7
http://192.168.23.4/wap
Barbados
Digicel
wap.digicelbarbados.com
wapbarb
wap03barb
172.16.7.12
http://mmc.digiceljamaica.com/servlets/mms
Belarus
Velcom
mms.velcom.by
mms
mms
10.200.15.15
http://mms.velcom.by/servlets/mms
Belgium
Base
internet.be
212.88.139.44
http://mms.vox.lu
Mobistar
mms.be
mobistar
mobistar
212.65.63.143
http://mmsc.mobistar.be
Proximus
event.proximus.be
mms
mms
10.55.14.75
http://mmsc.proximus.be/mms
Tempo
tempomms.be
mobistar
mobistar
212.65.63.143
http://mmsc.mobistar.be
Bosnia&Herzegowina
BH Telecom
mms.bhmobile.ba
195.222.56.41
http://mms.bhmobile.ba/cmmsc/post
Mobis
mms
192.168.61.11
http://mms.065mobis.com/mms/wapenc
Brazil
Brazil Telecom
mms.brt.br
brt
brt
200.96.8.29
http://mms.brasiltelecom.com.br/
Claro
mms.claro.com.br
claro
claro
200.169.126.10
http://mms.claro.com.br
CTBC
mms.ctbc.br
ctbc
1212
172.29.7.70
http://mms.ctbccelular.com.br/was
Oi (TNL PCS)
mmsgprs.oi.com.br
oimms
oioioi
192.168.10.50
http://200.222.42.204:8002/
Telemig
mmsgprs.telemigcelular.com.br
celular
celular
200.192.230.142
http://mms.telemigcelular.com.br
TIM
mms.tim.br
tim
tim
200.179.66.242
http://mms.tim.br/servlets/mms
VIVO
mms.vivo.com.br
vivo
vivo
200.142.130.104
http://termnat.vivomms.com.br:8088/mms
Brunei
DST
dst.mms
mms
mms
10.100.6.101
http://mms.dst.com.bn/mmsc
Bulgaria
Globul
mms.globul.bg
mms
192.168.87.11
http://mmsc1.mms.globul.bg:8002
Mtel
mms-gprs.mtel.bg
mtel
mtel
10.150.0.22
http://mmsc/
Cambodia
Hello
hellomms
192.168.205.20
http://mms.iq2mobile.com
Canada
Rogers
media.com
media
mda01
172.25.0.107
http://mms.gprs.rogers.com
Cayman Islands
Cable and Wireless
internet
10.20.5.34
http://mmsc
Chile
Entel PCS
mms.entelpcs.cl
entelmms
entelpcs
10.99.0.10
http://mmsc.entelpcs.cl
Telefonica
mms.tmovil.cl
mms
mms
172.17.8.11
http://mms.tmovil.ch
China
China Mobile
cmwap
10.0.0.172
http://mmsc.monternet.com
Croatia
VIPNet
mms.vipnet.hr
212.91.99.91
http://mms.vipnet.hr/servlets/mms
Cyprus
Areeba
mms.areeba.com.cy
172.24.97.1
http://mms.areeba.com.cy/mmsc
CytaMobile VodaFone
cytamobile
user
pass
212.31.96.161
http://mmsc.cyta.com.cy
Czech Republic
Eurotel
mms
mms
mms
160.218.160.218
http://mms.eurotel.cz:8002
O2
mms
160.218.160.218
http://mms.o2active.cz:8002
Oskar
mms
mms
mms
10.11.10.111
http://mms
T-Mobile
mms.t-mobile.cz
mms
mms
10.0.0.10
http://mms
Denmark
Sonofon
sonofon
212.88.64.8
http://mms.sonofon.dk
TDC
mms
194.182.251.15
http://192.168.241.114:8002
Telia
www.mms.telia.dk
telia
1010
193.209.134.131
http://mms.telia.dk
Tre
data.tre.dk
172.16.1.25
http://mms.3.dk
Dominica
Cable and Wireless
internet
10.20.5.34
http://mmsc
Egypt
MobilNil
Mobinilmms
10.7.13.24
http://10.7.13.24:8002
Vodafone
mms.vodafone.com.eg
163.121.178.2
http://mms.vodafone.com.eg/servlets/mms
Estonia
Elisa
mms
194.204.2.6
http://194.204.2.10
EMT
mms.emt.ee
217.71.32.82
http://mms.emt.ee/servlets/mms
Tele 2
mms.tele2.ee
193.12.40.6
http://mmsc.tele2.ee
Finland
Alands
mms.amt.aland.fi
194.110.177.70
http://mms.amt.aland.fi
DNA
mms
dna
mms
10.1.1.2
http://mmsc.dnafinland.fi
Elisa
mms
213.161.41.57
http://mms.elisa.fi
Go Mobile
mms.gomobile.fi
10.1.1.11
http://mmsc.gomobile.fi
PGFree
mms.pgfree.com
10.1.1.1
http://mmsc.pgfree.fi
Sonera
wap.sonera.net
195.156.25.33
http://mms.sonera.fi:8002/
France
Bouygues
mmsbouygtel.com
62.201.137.17
http://mmsc.monternet.com
Orange
orange.acte
orange
orange
192.168.10.200
http://mms.orange.fr/
SFR
mmssfr
10.151.0.1
http://mms1/
Georgia
Magti
mms.ge
81.95.160.1
http://mms.magticom.ge
Germany
E-Plus
mms.eplus.de
mms
eplus
212.23.97.153
http://mms/eplus
O2
internet
195.182.114.52
http://10.81.0.7:8002/
T-Mobile
mms.t-d1.de
t-mobil
mms
193.254.160.3
http://mms.t-mobile.de/servlets/mms
VodaFone
event.vodafone.de
139.7.29.17
http://139.7.24.1/servlets/mms
Greece
Cosmote
mms
10.10.10.20
http://195.167.65.220:8002/
Q-Telecom
q-mms.myq.gr
192.168.80.134
http://mms.myq.gr/
TIM
mnet.b-online.gr
wap
wap
192.168.200.11
http://192.168.200.95/servlets/mms
Vodafone
mms.vodafone.net
user
pass
213.249.019.049
http://mms.vodafone.gr/
Grenada
Cable and Wireless
internet
10.20.5.34
http://mmsc
Haiti
Digicel
wap.digicelha.com
172.20.134.12
http://mmc.digicelhaiti.com/servlets/mms
Hong Kong
CSL
hkcsl
192.168.59.51
http://192.168.58.171:8002/
New World
mms
192.168.111.1
http://mmsc.nwmobility.com:8002/
Orange
mms.orangehk.com
orange
1234
10.30.15.53
http://10.30.15.51:10021/mmsc
Peoples
peoples.mms
172.31.31.36
http://mms.peoples.com.hk/mms
SmartOne
smartone
10.9.9.9
http://mms.smartone.com.hk/server
Sunday
smms
10.131.2.1
http://mmsc.mms.Sunday.com:8002/
Three
mobile.three.com.hk
172.20.99.240
mms.um.three.com.hk:10021/mmsc
Hungary
PannonGSM
mms
193.225.154.22
http://mmsc.pgsm.hu
T-Mobile
mms-westel
212.51.126.10
http://mms.westel900.net/servlets/mms
Vodafone
mms.vodafone.net
mms
mms
80.244.97.2
http://mms.vodafone.hu/servlets/mms
India
Airtel
airtelmms.com
100.1.201.172
http://100.1.201.171:10021/mmsc
BPL
mizone
10.0.0.10
http://mms.bplmobile.com:8080
CellOne
bsnlmms
ppp
ppp123
10.31.54.2
http://10.31.53.18/mms/
Idea
mmsc
10.4.42.15
http://10.4.42.21:8002
VodaFone
portalnmms
10.10.1.100
http://mms1.live.vodafone.in/mms/
Indonesia
IM3
mms.indosat-m3.net
mms
im3
10.19.19.19
http://mmsc.m3-access.com/
Mentari
indosatmms
indosat
indosat
10.19.19.19
http://mmsc.indosat.com
ProXL
www.xlmms.net
proxl
xlgprs
202.152.240.50
http://mmc.xl.neg.id
Sat-C
mms.satelindogprs.com
satmms
satmms
202.152.162.88
http://mmsc.satelindogprs.com/
Telkomsel
mms
wap
wap123
10.1.89.150
http://mms.telkomsel.com/
Ireland
Meteor
mms.mymeteor.ie
my
mms
10.85.85.85
http://mms.mymeteor.ie
O2
wap.dol.ie
gprs
gprs
62.40.32.40
http://mmsc.mms.o2.ie:8002
O2 (PrePaid)
pp/wap.o2.ie
gprs
gprs
62.40.32.40
http://mmsc.mms.o2.ie:8002
Three
3ireland.ie
mms.3ireland.ie
http://mms.um.3ireland.ie:10021/mmsc/
Vodafone
mms.vodafone.net
dublin
dublin
10.24.59.200
http://www.vodafone.ie/mms
Israel
Orange
wap.orange.co.il
192.118.11.55
http://192.168.220.15/servlets/mms
Italy
TIM
mms.tim.it
213.230.130.89
http://mms.tim.it/servlets/mms
Tre
tre.it
tre
tre
62.13.171.3
http://10.216.59.240:10021/mmsc
Vodafone
mms.vodafone.it
10.128.224.10
http://mms.vodafone.it/servlets/mms
Wind
mms.wind
212.245.244.11
http://mms.wind.it
Jamaica
Cable and Wireless
internet
10.20.5.34
http://mmsc
Digicell
wap.digiceljamaica.com
wapuser
wap03jam
172.016.007.012
http://mmc.digiceljamaica.com/servlets/mms
Jordan
MobileCom
mms.mobilecom.jo
mms
mms
172.16.1.2
http://172.16.1.96/servlets/mms
Orange
mms.orange.jo
mmc
mmc
172.16.1.2
http://172.16.1.96/servlets/mms
Kazakhstan
K Mobile
mms.k-mobile
@mms.k-mobile
k-mobile
172.27.6.93
http://mms.kartel.kz/mms/wapenc
Kcell
mms
195.047.255.015
http://192.168.75.10:6001/MM1Servlet
Kuwait
MTC
pps
annyway
online
176.0.0.65
http://176.0.0.1/
Wataniya
mms.wataniya.com
194.126.53.64
http://action.wataniya.com
Liechtenstein
MobilKom
free.fl1.net
ppp@a1plus.at
194.48.124.71
http://mmsc.a1.net
Lithuania
Omnitel
mms.omnitel.net
10.16.35.50
http://mms:8002
Luxembourg
Lux GSM
mms.pt.lu
194.154.192.88
http://mmsc.pt.lu
Tango
mms
tango
tango
212.66.75.3
http://mms.tango.lu
VOX
vox.lu
212.88.139.44
http://mms.vox.lu
Macau
CTM
ctmmms
192.168.99.3
http://mms.wap.ctm.net:8002/
Macedonia
Cosmofon
mms
10.10.10.20
http://195.167.65.220:8002
Malaysia
Celcom
mms.celcom.net.my
10.128.1.242
http://mms.celcom.net.my/
DiGi
digimms
mms
mms
203.92.128.160
http://mms.digi.com.my/servlets/mms
Maxis
net
maxis
wap
202.75.133.49
http://172.16.74.100:10021/mmsc
Malta
Vodafone
mms.vodafone.com.mt
10.12.0.3
http://mms.vodafone.com.mt/servlets/mms
Mexico
Telcel
mms.itelcel.com
mmsgprs
mmsgprs2003
148.233.151.240
http://mms.itelcel.com/servlets/mms
Moldova
MoldCell
mms
10.0.10.10
http://mms.moldcell.md/cmmsc/post
Monaco
Monacell
orange.acte
orange
orange
192.168.1.2
http://mms.orange.fr
Montenegro
Promonte
mms.promonte.com
mms
mms
192.168.246.5
http://mm.vor.promonte.com
Montserrat
Cable and Wireless
internet
10.20.5.34
http://mmsc
Morocco
IAM
mmsiam
10.16.35.50
http://mms:8002
MarocTelecom
mmsiam
10.16.35.50
http://mms:8002/
Netherlands
KPN
portalmmm.nl
10.10.100.20
http://mp.mobiel.kpn/mmsc
Orange
MMS
10.250.255.183
http://mms.orange.nl:8002/
Telfort
multimedia
193.113.200.195
http://mmsc.mms.telfort.nl:8002
T-Mobile
mms
tmobilemms
tmobilemms
10.10.10.11
http://t-mobilemms
Vodafone
live.vodafone.com
vodafone
vodafone
192.168.251.150
http://mmsc.mms.vodafone.nl
New Zealand
Vodafone
live.vodafone.com
172.30.38.3
http://pxt.vodafone.net.nz/pxtsend
Nigeria
Globacom
glomms
mms
10.100.82.4
http://mms.gloworld.com/mmsc
Glomobile
glo_mms
mms
10.100.82.4
http://mms.gloworld.com/mmsc
Norway
Netcom
mms.netcom.no
mms
netcom
193.209.134.133
http://mms/
Telenor
mms
10.10.10.11
http://mmsc/
Oman
Nawras
mms.nawras.com.om
10.128.240.16
http://10.128.240.16/servlets/mms
Oman Mobile
mms
mms
mms
192.168.203.035
http://mmsc.omanmobile.om:10021/mmsc
Pakistan
Telenor
mms
telenor
telenor
172.18.19.11
http://mmstelenor
Ufone
ufone.mms
172.16.13.27
http://www.ufonemms.com:80/alias=PP
Panama
Cable and Wireless
apn01.cwpanama.com.pa
172.25.3.5
http://mms.zonamovil.com.pa:80/i.bin
Paraguay
VOX
vox.wap
172.24.97.29
http://srvvirtual.vox.com.py/mmsc
Philippines
Digitell
mms
202.138.159.78
http://mmscenter.suncellular.com.ph
Globe Telecom
mms.globe.com.ph
1
192.40.100.20
http://192.40.100.22:10021/mmsc
Smart
mms
10.102.61.46
http://10.102.61.238:8002/
SUN
mms
202.138.159.78
http://mmscenter.suncellular.com.ph/
Poland
ERA
eramms
eramms
eramms
213.158.194.057
http://mms.era.pl/servlets/mms
Heyah
heyahmms
heyah
heyah
213.158.194.057
http://mms.heyah.pl/ servlets/mms
Idea
mms
idea
idea
192.168.6.104
http://192.168.6.104
Orange
mms
mms
mms
192.168.6.104
http://mms.orange.pl
Play
mms
10.10.25.5
http://10.10.28.164/mms/wapenc
Plus
mms.plusgsm.pl
brak
brak
212.2.96.16
http://mms.plusgsm.pl:8002
Sami Swoi
wap.plusgsm.pl
212.2.96.16
http://mms.plusgsm.pl:8002/
Portugal
Optimus
mms
mms
mms
62.169.66.1
http://mmsc:10021/mmsc
TMN
mmsc.tmn.pt
tmn
tmnnet
10.111.2.16
http://mmsc
Vodafone
vas.vodafone.pt
vas
vas
213.30.27.63
http://mms/servlets/mms
Qatar
Qtel
mms.qtel
mms
mms
10.23.8.3
http://mmsr.qtelmms.qa
Romania
Connex-Vodafone
mms.connex.ro
mms.connex.ro
connex
193.230.161.231
http://multimedia/servlets/mms
Orange
mms
62.217.247.252
http://wap.mms.orange.ro:8002
Russia
A Mobile
mms.mts.ru
mts
mts
212.044.140.025
http://mmsc
Beeline
wap.beeline.ru
beeline
beeline
192.168.17.1
http://192.168.17.7/servlets/mms
Megafon
mms
10.10.10.10
http://mmsc:8002/
Motiv
mms.ycc.ru
motiv
motiv
172.016.002.010
http://mms.ycc.ru
Smarts
mms.smarts.ru
wap
wap
172.24.128.5
http://172.24.120.135/mms/wapenc
USI
mms.usi.ru
192.168.168.192
http://mms/
Saint Kitts and Nevis
Cable and Wireless
internet
10.20.5.34
http://mmsc
Saint Lucia
Cable and Wireless
internet
10.20.5.34
http://mmsc
Saint Vincent and the Grenadines
Cable and Wireless
internet
10.20.5.34
http://mmsc
Saudi Arabia
STC
mms.net.sa
10.1.1.1
http://mms.net.sa:8002/
Singapore
M1
miworld
65
user123
172.16.14.10
http://mmsgw:8002/
SingTel
e-ideas
65eideas
eideas
165.21.42.84
http://mms.e-ideas.com.sg:10021/mmsc
Starhub
shmms
10.12.1.80
http://mms.starhubgee.com.sg:8002/
Slovakia
T-Mobile
mms
mms
mms
192.168.1.1
http://mms
Slovenia
Izi Mobil
mms.izimobil
izimobil
izimobil
213.229.249.40
http://mms.mobitel.si/servlets/mms
Mobitel
mms.mobitel.si
mobitel
internet
213.229.249.40
http://mms.mobitel.si/servlets/mms
Si Mobil
mms.simobil.si
simobil
internet
80.95.224.46
http://mmc
South Africa
Cell C
mms
196.031.116.250
http://mms.cmobile.co.za/
MTN
myMTN
mtnmms
196.11.240.241
mms.mtn.co.za/mms/wapenc
Virgin
vmms
196.31.116.242
http://mms.virginmobile.co.za
VodaCom
mms.vodacom.net
196.6.128.6
http://mmsc.vodacom4me.co.za
Spain
Amena
amenamms
MMS
AMENA
172.22.188.25
http://mms.amena.com
Movistar
mms.movistar.es
movistar@mms
movistar
10.138.255.1
http://mms.movistar.com
Vodafone
mms.vodafone.net
wap@wap
wap125
212.73.32.10
http://mmsc.vodafone.es/servlets/mms
Sri Lanka
Dialog
www.dialogsl.com
192.168.122.2
http://mms.dialog.lk:3130/mmsc
Sweden
Tele2
internet.tele2.se
130.244.202.30
http://mmsc.tele2.se
Telenor
services.telenor.se
172.30.253.241
http://mms
Telia
mms.telia.se
mms
telia
193.209.134.132
http://mmss/
Tre
data.tre.se
172.16.1.25
http://mms.tre.se
Vodafone
services.vodafone.net
172.30.253.241
http://mms/
Switzerland
Orange
mms
192.168.151.2
http://192.168.151.3:8002/
Sunrise
mms.sunrise.ch
mms
mms
212.35.34.75
http://mmsc.sunrise.ch
Swisscom
event.swisscom.ch
192.168.210.2
http://mmsc.swisscom.ch
Syria
Syriatel
mms.syriatel.com
172.20.5.6
http://mymms.syriatel.com/
Taiwan
Chunghwa
emome
10.1.1.1
http://mms.emome.net:8002/
ForEasTone
fetnet01
210.241.199.199
http://mms/
KG Telcom
kgtmms
172.28.33.5
http://mms.kgtmms.net.tw/mms/wapenc
Mobitai
gprs1
gprs
gprs
192.168.77.5
http://mms.mobeelife.net/mms/wapenc
TransAsia
hank
211.78.224.100
http://mms/
TWN
mms
10.1.1.2
http://mms/
Vibo
internet
210.241.199.199
http://mms
Thailand
AIS
multimedia
203.170.229.34
http://mms.mobilelife.co.th/
DTAC
mms
-
0
203.155.200.133
http://mms.dtac.co.th:8002/
Mobilelife
multimedia
203.170.229.34
http://mms.mobilelife.co.th
Orange
mms
orange
orange
10.4.7.39
http://mms.orange.co.th:8002/
Tunisia
Tuntel
mms.t1
mms@tt1
mms
213.150.186.106
http://mms
Turkey
Avea
mms
mms
mms
213.161.151.201
http://mms.avea.com.tr/servlets/mms
Turkcell
mms
mms
mms
212.252.169.217
http://mms.turkcell.com.tr/servlets/mms
Vodafone
mms
mms
mms
217.31.233.18
http://mms:6001/MM1Servlet
Turks and Caicos Islands
Cable and Wireless
internet
10.20.5.34
http://mmsc
Ukraine
Kyivstar
mms.kyivstar.net
mms
mms
10.10.10.10
http://mms.kyivstar.net
Life
mms
212.58.162.230
http://mms.life.com.ua/cmmsc/post
UMC
mms.umc.ua
mms
umc
192.168.10.10
http://mmsc:8002
United Arab Emirates
Etisalat
mms
mms
mms
10.12.0.30
http://mms/servlets/mms
United Kingdom
BT
mobile.bt.uk
user
btmms
62.239.21.123
http://mmsc.btmms.co.uk:8002
O2
wap.o2.co.uk
o2wap
password
193.113.200.195
http://mmsc.mms.o2.co.uk:8002
Orange
orangemms
orange
multimedia
192.168.224.10
http://mms.orange.co.uk/
Tesco
prepay.tesco-mobile.com
tescowap
password
193.113.200.195
http://mmsc.mms.o2.co.uk:8002
Three
three.co.uk
217.171.129.2
http://mms.um.three.co.uk:10021/mmsc
T-Mobile
general.t-mobile.uk
user
one2one
149.254.211.10
http://mmsc.t-mobile.co.uk:8002/
Virgin
goto.virginmobile.uk
user
193.030.166.001
http://mms.virginmobile.co.uk:8002
Vodafone
wap.vodafone.co.uk
212.183.137.12
http://mms.vodafone.co.uk/servlets/mms
United States
AT&T Wireless
proxy
10.250.250.100
http://mmsc.mobile.attwireless.net/
Cellular One
cellular1wap
172.23.1.252
http://www.openmobilealliance.org/
Cingular
wap.cingular
wap@cingulargprs.com
cingular1
66.209.11.61
http://mmsc.cingular.com/
Orange
wap.orange.co.il
192.118.11.55
http://192.168.220.15/servlets/mms
T-Mobile
wap.voicestream.com
216.155.165.50
http://216.155.174.84/servlets/mms
Uruguay
Ancel
mms
200.40.246.2
http://mmsc.mms.ancuelutil.com.uy/
Movistar
webapn.movistar.com.uy
wapuy
wapuy
?
http://mmsc.movistar.com.uy
Uzbekistan
Beeline
mms.beeline.uz
beeline
beeline
172.30.30.166
http://mms.beeline.uz/mms/wapenc
Unitel
mms.unitel
10.10.0.10
http://mms.unitel.uz/was
Vietnam
Mobifone
m-wap
mms
mms
203.162.21.114
http://203.162.21.114/mmsc
Vinafone
m3-mms
mms
mms
10.1.10.46
http://mms.vinaphone.vnn.vn:8002
Yemen
Sabafon
mms
wap
wap
192.168.30.174
http://mms.sabafon.com/
Yugoslavia
Mobtel
mms
217.65.192.33
http://mms.mobtel.co.yu/servlets/mms
Monet
mms.monetcg.com
10.0.5.19
http://192.168.180.100/servlets/mms