Trial version limitations
Ozeki Android SMPP SMS Gateway application is available in three different versions. The basic "Full" version has a limited edition, called "Lite", in addition there is an advanced "Full Plus" edition. Each has its own advantages and disadvantages. Learn more about limitations.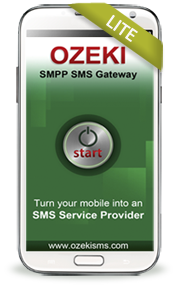 Ozeki Android SMPP SMS Gateway Lite edition:
Provides unlimited SMS messaging


The following text appears at the end of each SMS:
"sent by Ozeki SMPP SMS Gateway for Android - www.ozekisms.com"
Why Lite edition...
It is FREE
Easy to upgrade Full version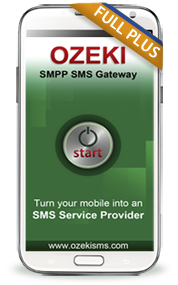 Ozeki Android SMPP SMS Gateway Full Plus trial:
Works for 5 days without any limitations


After the 5. day Ozeki Android SMPP SMS Gateway trial expires. You need to activate your license in order to be able to use the application.
Worth to download Full Plus edition, because...
It is just 99 USD
Easy to download from Ozeki - Download Full Plus now
Unlimited SMS messaging
100 USD coupon is guaranteed
If you have any questions or need assistance, please contact us at: info@ozekisms.com
Learn more about it!
People who read this also read...