Ozeki 4G LTE SMS Modem Review
The Ozeki 4G LTE SMS USB-C modem is a powerful and versatile device that can be used to send and receive SMS messages, connect to the internet, and even power small devices. It is compatible with a wide range of operating systems, making it a great choice for businesses and individuals alike. This article summarizes the key points of the device, including the features of the modem, its compatibility, and its potential uses.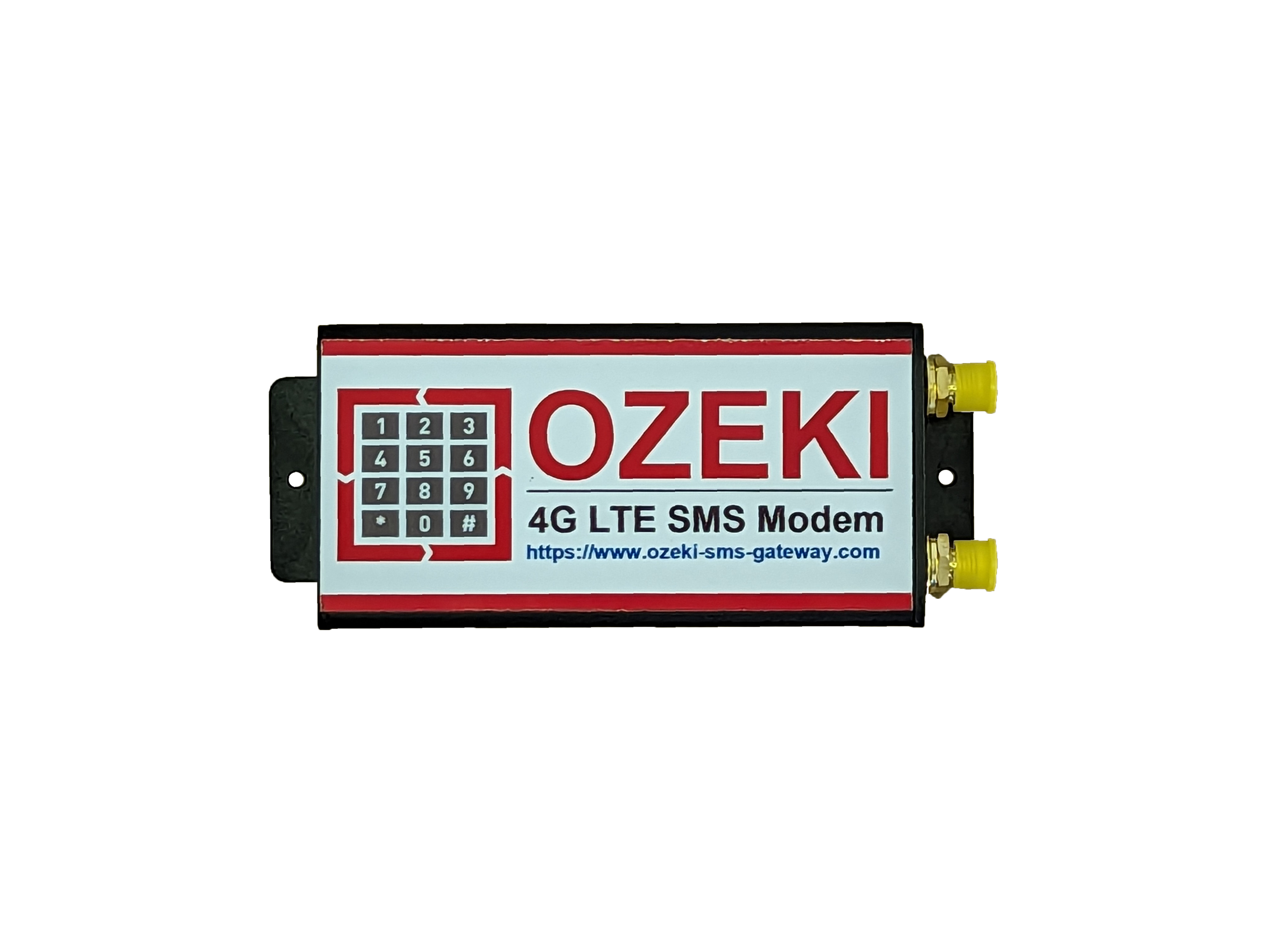 What is a Ozeki 4G LTE SMS modem
The Ozeki 4G LTE SMS modem is a cellular device providing USB-based connectivity, enabling internet access via LTE networks.

Ozeki 4G LTE SMS modem technical specifications
Ozeki 4G LTE SMS specifications
| | |
| --- | --- |
| Connection | USB-C |
| Frequency bands | 850, 900, 1800, 1900 |
| Network protocols | GSM, GPRS, UMTS, EDGE, HSDPA, HSPA+, LTE, DC-HSPA |
| Network speed | 100Mbps downlink, 50Mbps uplink |
Setting up Ozeki 4G modem (quick steps)
Install Ozeki SMS Server software.
Connect Ozeki 4G modem to PC.
Add modem in SMS Server settings.
Configure SMS sending settings.
Compose message and recipient.
Send SMS via Ozeki SMS Server.
Monitor logs for delivery confirmation.
Ozeki 4G LTE SMS setup experience
The Ozeki 4G modem comes with two antennas, a USB-C adapter, and is easy to set up. There is no need for an external power source because the USB connection powers the modem. It is necessary to download the USB driver for the modem from the Ozeki website. After installing the driver, Windows had no trouble recognizing the modem. The Ozeki SMS Server had no trouble locating the modem.
Ozeki 4G LTE SMS Personal Experiences
To deliver the finest performance to our customers, the Ozeki 4G LTE SMS modem underwent rigorous testing at Ozeki Lab. This compact modem has a fast connection as well as exceptional capabilities like precise GPS services for tracking. In light of the study we did before creating our modem and the knowledge we gained over the years, this modem scored admirably in our tests and can offer the most features compared to other modems.
Pros and Cons of Ozeki 4G LTE SMS
Pros:
Small dimensions
Future proof solution
High network speed
GPS features
Cons:
Fairly new, not as many reviews
Sending SMS from Ozeki 4G LTE SMS modem
To send and receive SMS messages with the Ozeki 4G LTE SMS USB-C modem, you will need to install the appropriate drivers and Ozeki software. Once the drivers are installed, you can open the software and create a new SMS modem. Enter the recipient's phone number and the message text, then click Send. The message will be sent immediately. For mor information, look at the setup page.
Receiving SMS from Ozeki 4G LTE SMS modem
Make sure the Ozeki 4G modem is connected and set up in Ozeki SMS Server in order to receive SMS using it. Through the Ozeki SMS Server GUI, text messages may be kept track of as they arrive. Ozeki SMS Server offers real-time visibility into the content of received SMS messages and their senders as soon as the modem is identified.
Summary
The Ozeki 4G SMS modem is a small and powerful modem that is compatible with Ozeki services. It is a great choice for applications that require high speed and limited space, such as mobile devices and industrial automation systems. The modem's resources are frequently updated to ensure that they are up-to-date and easy to use, even for those with less technical skills.