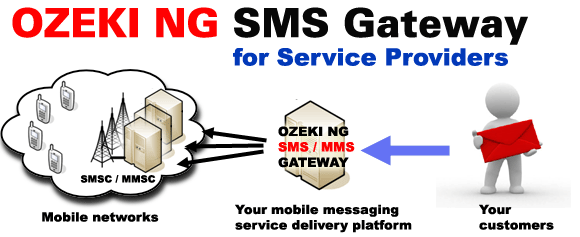 Ozeki NG SMS Gateway is an excellent software for those who want to provide SMS services!
It can be used by independent SMS service providers (SMS Aggregators), Mobile network operators and SMS content providers. The platform offers everything needed to setup and operate mobile messaging services efficiently.
SERVICES YOU CAN OFFER
If you are an
SMS service provider
or an
SMS content provider
and you want to launch SMS services, such as
SMS Voting
,
SMS quiz games
, etc... or you simply want to become a reseller of SMS services, use Ozeki NG - SMS Gateway as your service platform! It was designed to operate 24/7, it requires little support and provides extremly high capacity (several hundreds of messages per second).
MOBILE NETWORK CONNECTIVITY
You can connect your SMS platform to the mobile network through the Internet or through a wireless link. Internet based connections (IP SMS and IP MMS) connections are recommended for service providers.

The following mobile network connectivity protocols are available in Ozeki NG SMS Gateway to connect your system to the SMSC or MMSC of a mobile network operator or an independent SMS or MMS service provider:
Please note that while internet based connections can handle several hundreds of messages per second, wireless GSM modems can only be used if the message throughput does not have to accede a few thousand messages per day!
SUPERIOR PERFORMANCE
Provides the highest performance, availability and security to run your most demanding SMS applications.
500 SMS messages / second (sending and receiving)
100 simultaneously connected applications
64+ concurrent SMSC connections
Support for dual core and multiprocessor systems
Support for 32bit and 64bit architectures
If you would like to build a test environment please visit the following URLs:
How to build a test environment for testing a high performance SMS system
Configuring your Ozeki NG SMS Gateway system for high performance
RELIABILITY
Works 24/7. Manages network link failures and SMS service provider failures with automatic reconnect capability, backup routing and fail-safe load balancing. Message loop protection is also included to avoid threats caused by autoresponding mobile messaging services. For high-availability, an Ozeki NG SMS Gateway cluster can be setup with two or more nodes.
YOUR CUSTOMERS
After you setup Ozeki NG SMS Gateway as your service delivery platform, you will become a fully featured SMS service provider. You can offer SMS solutions and SMS service to your customers. Learn how your customers can exploit the potential of SMS messaging by checking out the "SMS in your company" webpage.
INTRODUCTION to OZEKI 10
Ozeki has recently released a new SMS gateway platform, that will be the successor of Ozeki NG SMS Gateway. You might want to give it a try. The name of this platform is Ozeki 10 SMS Gateway. It has a very powerful built in SMPP server, that is capable of routing and managing SMS messages up to 1000 SMS per second. It also has a great SMPP client connection option that can be used to connect to SMS services and mobile networks.

Hot topics
Check out relevant information for service providers:
| | | |
| --- | --- | --- |
| | RUN A RELIABLE SERVICE | |
| | Read about the recommended hardware configuration. Learn how to build a reliable SMS system by configuring an SMS service cluster out of two or more computers. Find out how you can increase the fault tolerance of SMSC connections by setting up backup routing. Learn how you can increase throughput and fault tolerance by configuring two or more service provider connections for load balancing. | |
| | The software provides redundancy. | |
| | | |
| --- | --- | --- |
| | CONNECT TO MANY NETWORKS | |
| | Ozeki NG SMS Gateway provides various routing options, that allow you to control message flow. Check out: | |
| | Routing provides high flexibility | |