Excel SMS client
Office users often prefer to send SMS messages from Microsoft Excel. They like it because often the list of the recipient phone numbers is already available in the form of Excel worksheets. In this guide you will learn how to use an Excel Macro to send SMS messages through Ozeki NG SMS Gateway. It is very easy, you may start by watching the following video:
Prerequisites
To be able to send SMS from Microsoft Excel, you need to download the following sample Excel worksheets. The following zip file contains two excel files: One is an example list of phone nubmers, the other contains the Excel Macro for sending the SMS to Ozeki NG.
Introduction
Ozeki NG SMS Gateway is a software product that provides SMS functionality to your corporate IT system. Therefore there is a possibility to send SMS messages from Excel with the help of this software. To achieve this function you can use the Excel SMS Client of Ozeki NG SMS Gateway. With this solution you will be able to send important data and information from Excel as SMS text message to predefined mobile phones. In this way you can save time as you do not need to use an other application. With this SMS client you just need to click on a button in Excel to send your message. If you implement this solution you can save time and money while you can improve corporate communication within and outside of your company.
How to implement this solution
The Excel SMS client enables you to send SMS messages from Microsoft Excel. To achieve this goal, all you have to do is open two excel spread sheets: Messages.xls and Ozeki.xls. In the Messages.xls spread sheet, you need to fill the telephone numbers into the first column and the message text into the second column (Figure 1).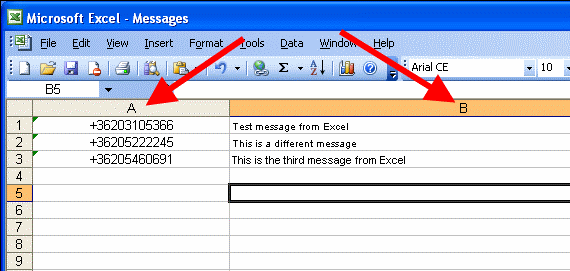 In the Ozeki.xls excel sheet you need to provide your username and password. You will also find a macro that can be started by clicking on the Send all button. This macro will connect to Ozeki NG SMS gateway over the office LAN or over the internet and will send the SMS messages you have edited on the Messages.xls sheet. The parameters for this network connection can be edited on the Ozeki.xls spread sheet (Figure 2).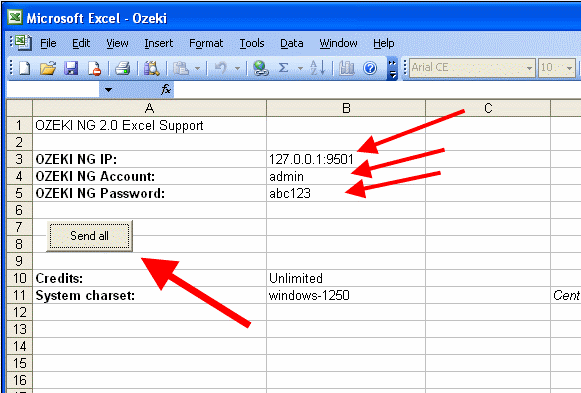 In "SMS Sender" window select "Messages.xls" file and click on "OK" (Figure 3).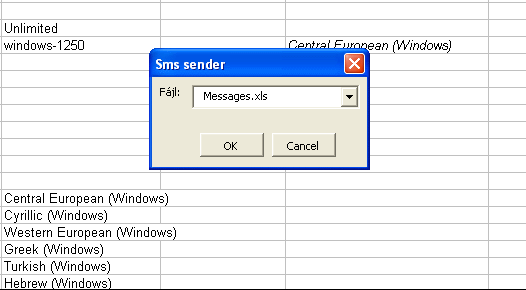 A delivery report window automatically appears that shows "Message accepted for delivery" and it contains the message ID and phone numbers of recipients (Figure 4).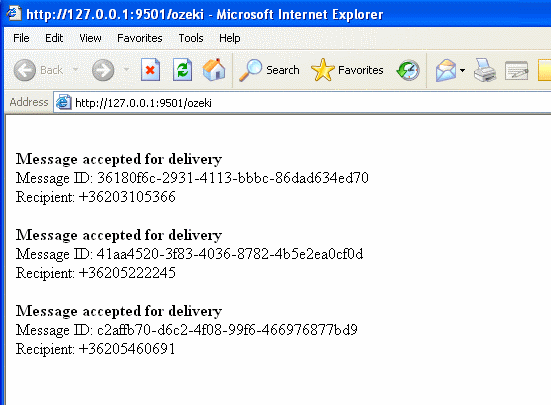 If you take a look at Ozeki NG SMS Gateway you can see the sent message in its "Sent" message folder (Figure 5).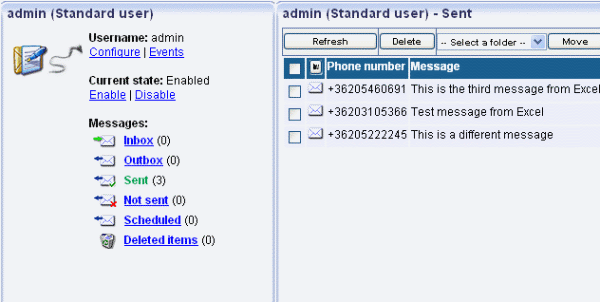 Conclusion
Sending SMS messages from MS Excel with Excel SMS Client and Ozeki NG SMS Gateway is one of the most simple but very efficient method of SMS sending. With this solution you can send important data from your computer directly to mobile phones. In this way you can keep in touch with customers, business partners and employees, and you can forward important short messages to them. The implementation and use of this solution is really simple but you will save time and money with it and can ensure continuous availability and speed in your corporate communication.
A more detailed explanation about this option is available in the following section: Enabling Macros in Microsoft Excel.
If you have not downloaded Ozeki NG SMS Gateway you can do it right now!
More information