Bulk SMS to a given phone number range
Ozeki Bulk SMS Sender is capable of sending SMS messages to a given phone number range. Here you can read about Ozeki Bulk SMS Sender functionality and read a quick guide about how to use it.
You can download Ozeki Bulk SMS Sender here: Ozeki-bulk-sms-sender.zip
How to use Ozeki Bulk SMS Sender
It is assumed you have already downloaded and configured Ozeki NG SMS Gateway.
After downloading and extracting the zip, double-click on ozeki_bulk_sms_sender.exe.
A window will pop up (Figure 1) where you can specify the following values:
Host: the IP address of the computer on which Ozeki NG SMS Gateway has been installed.
Port: the port number of HTTP server.
Method: GET or POST.
Username: your username used to log into Ozeki NG SMS Gateway.
Password:your password used in Ozeki NG SMS Gateway.
Sender: you can specify the sender phone number for messages to be sent
Recipient (initial): The initial recipient's phone number. This phone number will increment by 1 after every sent message. E.g.: If you type in +0000001, the first message is sent for this number, the second for +0000002, the third for +0000003 etc.
Messages: here you can define the number of messages to be sent.
Message: you can specify the message content in this field.
(Note that there is a an action option on the top, but you cannot change it since it is only for sending.)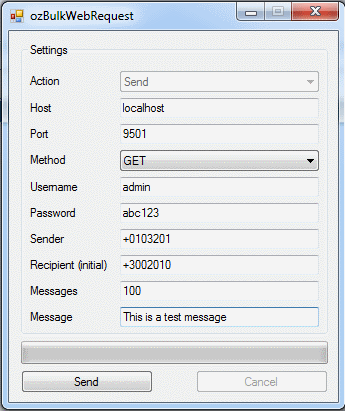 After clicking ont he Send Button, a window appears that notifies you about the number of sent messages (Figure 2).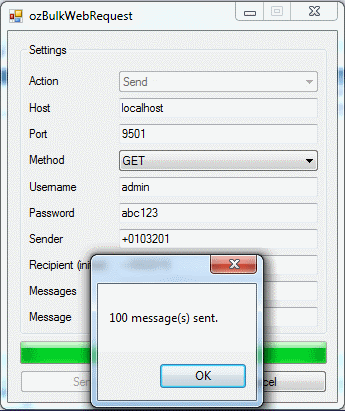 In the user's sent box of Ozeki NG SMS Gateway sent messages are listed (Figure 3).
>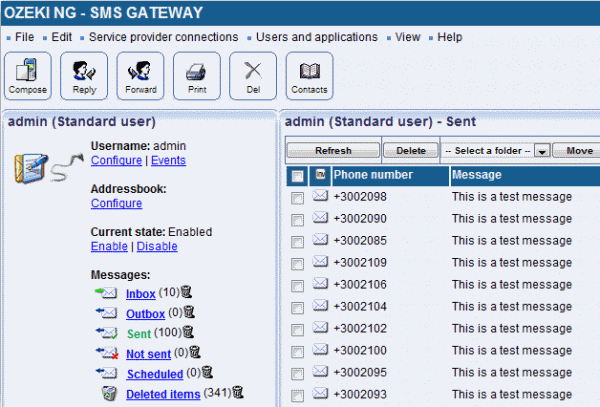 For more information please contact us at info@ozekisms.com.
More information