Ozeki Performance Tester
This article presents how you can test performance of Ozeki NG SMS Gateway. Below on this page you can download the Ozeki Performance Tester tool that allows you to get information on the performance of the SMS gateway. Therefore you will know the exact time that is needed to process messages. Screenshots demonstrate this solution.
First you need to log into Ozeki NG SMS Gateway with your username and password. Then add a new HTTP service provider connection. To do so, click on Add service provider in Service providers section (Figure 1).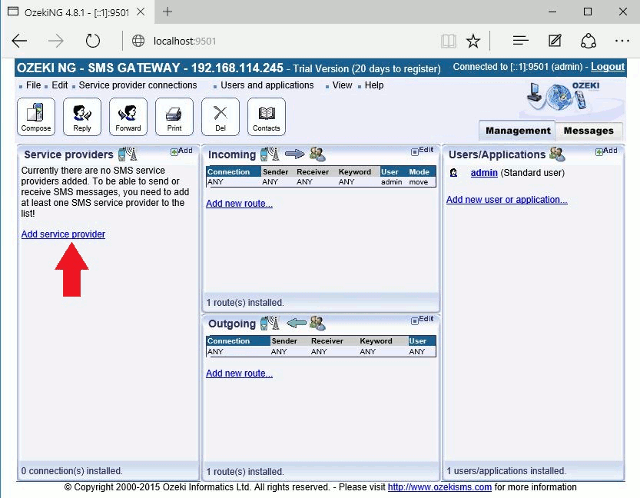 Select HTTP Server Connection in the list and click on Install next to it (Figure 2).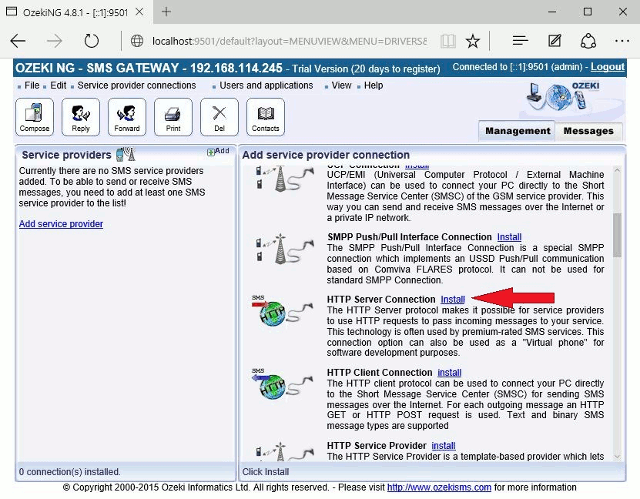 Leave the Configuration tab of the created connection unchanged and click on OK (Figure 3).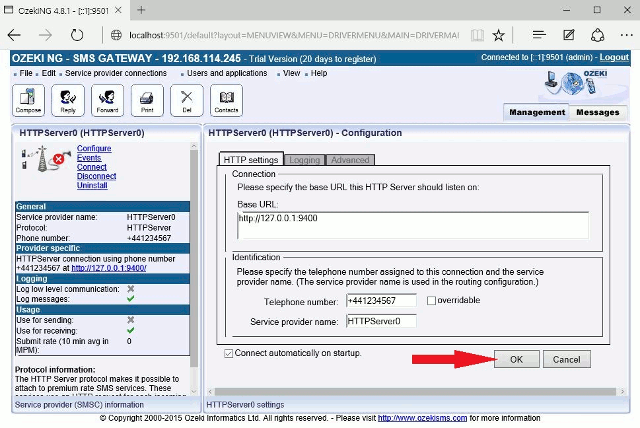 Now add a new outgoing route by clicking on Add new route in the Outgoing section (Figure 4).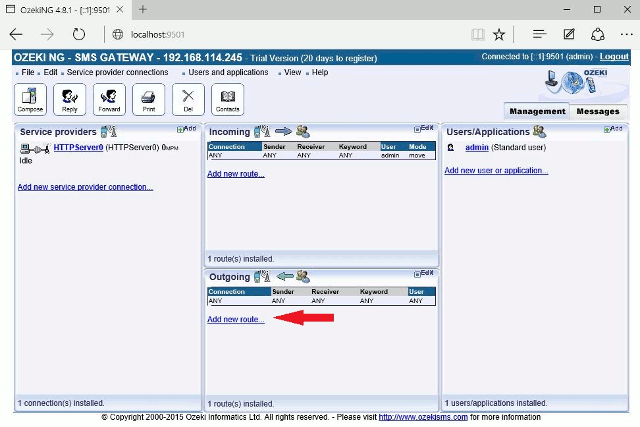 Now specify the source and destination of the outgoing messages. Set admin as Source and set the created HTTP server as Destination. In this way you can ensure that messages will not be sent out from Ozeki NG SMS Gateway but you can test performance (Figure 5).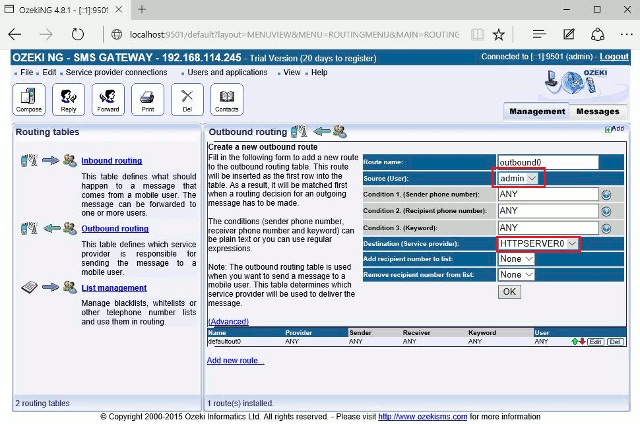 In the downloaded Ozeki_performance_tester_v2.exe tool you can specify the following values:

Action: it can be Send or Receive according to which action you want to take
Host: the IP address of the computer on which Ozeki NG SMS Gateway has been installed
Port: the port number of HTTP server
Method: GET or POST
Username: your username used to log into Ozeki NG SMS Gateway
Password: your password used in Ozeki NG SMS Gateway
Messages: here you can define the number of messages to be sent
Message: you can specify the message content in this field

If you provided these values, click on Send.

In our example I send 1000 test messages with GET method (Figure 6). Please note that messages can also be sent with POST method, as well.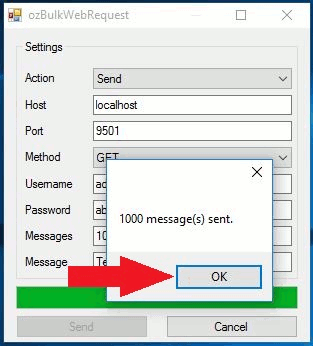 A window appears that notifies you about the number of sent messages. Click on OK (Figure 7).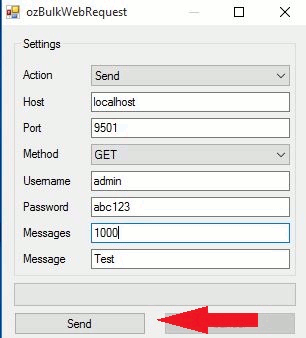 In Events of Ozeki NG SMS Gateway you can see sent messages (Figure 8).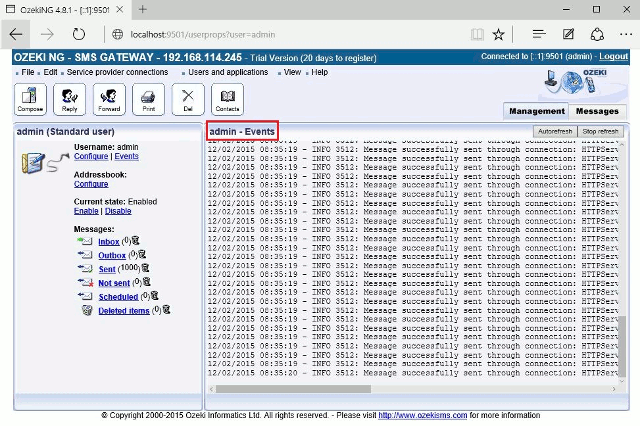 In Sent box of Ozeki NG SMS Gateway sent messages are listed (Figure 9).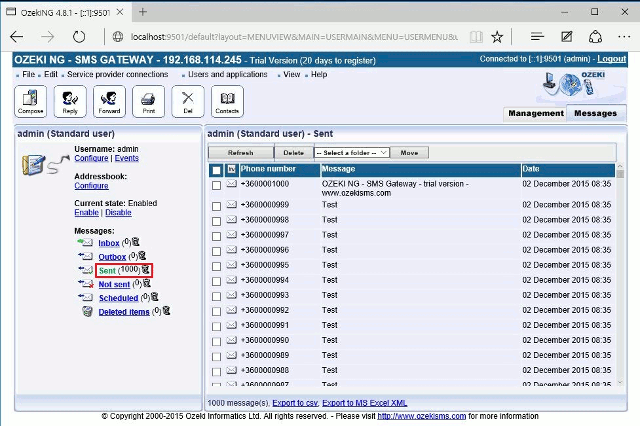 Incoming messages
Now you need to look for the hostname and the port on which the HTTP server listens (Figure 10).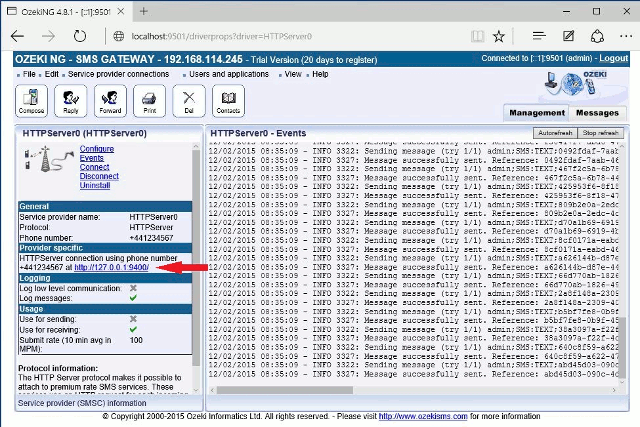 To receive SMS messages set Action field to Receive, type the Host and Port on which the HTTP server listens, and select the Method (in this example I select POST method but you can select GET and POST methods, as well). Fill the remaining fields and click on Send. In this example I send 1000 SMS messages (Figure 11).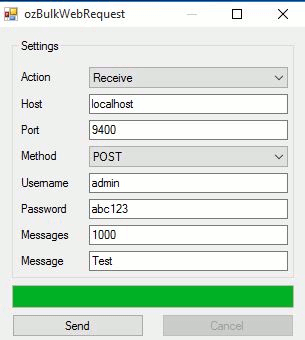 In the Inbox folder in Ozeki NG SMS Gateway you can see that all 1000 incoming messages has been received successfully (Figure 12).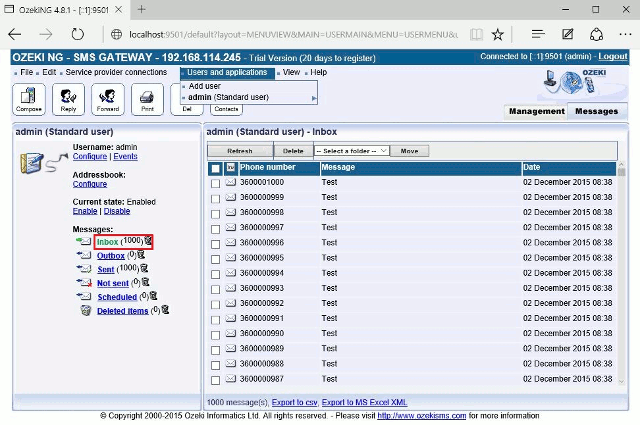 More information