TDC CPS Connection
This chapter provides you detailed information on how to install and configure TDC CPS Connection for SMS messaging in Ozeki NG SMS Gateway software.
As the service provider connections page suggests you need to install one or more service provider connections in Ozeki NG SMS Gateway to be able to send out SMS messages over the Internet. One of these service provider connections is TDC CPS Connection. Please follow this page to learn its installation and configuration process.
TDC has introduced a new platform that transforms how TDC manages third party content and service providers. This platform is also ensured for SMS messaging.
In this way a new service provider connection (TDC CPS Connection) has been developed in Ozeki NG SMS Gateway software that allows to connect to the webservice of TDC. In case of sending SMS messages, Ozeki NG SMS Gateway connects to the webservice of TDC. While, in case of receiving SMS messages, the built-in webservice of Ozeki NG SMS Gateway is called by TDC.
Figure 1 demonstrates how this connection works in practice. Ozeki NG SMS Gateway software connects to the webservice of TDC and sends out SMS messages over this connection.

Configuration
Step 1. Install TDC CPS Connection
Log into Ozeki NG SMS Gateway with your username and password. Click on Add new service provider connection(Figure 2).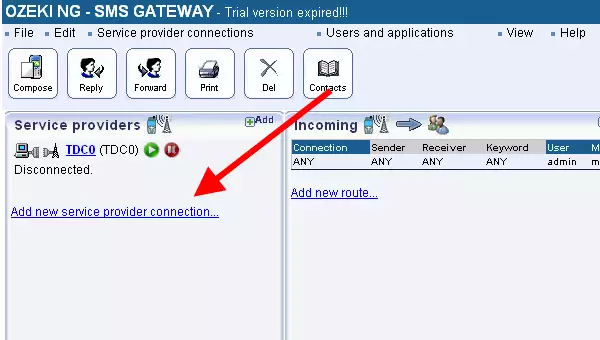 Select TDC PCS Connection from the list and click on install next to it (Figure 3).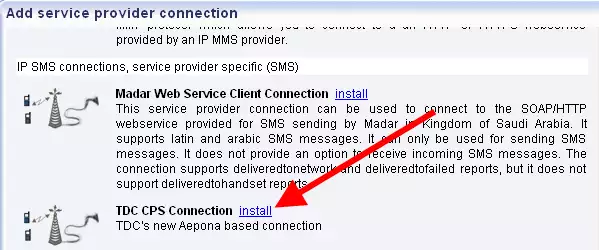 Step 2. Configure TDC CPS Connection
Now you need to specify the following URL parameters on General tab to configure the installed TDC CPS Connection (Figure 4):
Username: Username received from TDC
Password: Password received from TDC
In order to be registered at TDC you need to provide a Local Service Address and an Activation Number.
Local Service Address: It is the address of the computer on which Ozeki NG SMS Gateway has been installed. The service will be registered at TDC with this address and Ozeki NG SMS Gateway opens a webservice at this address.
Activation Number: It is the phone number that is registered at TDC
Polling period: In this field you can specify the time interval in minutes for checking lost messages or reports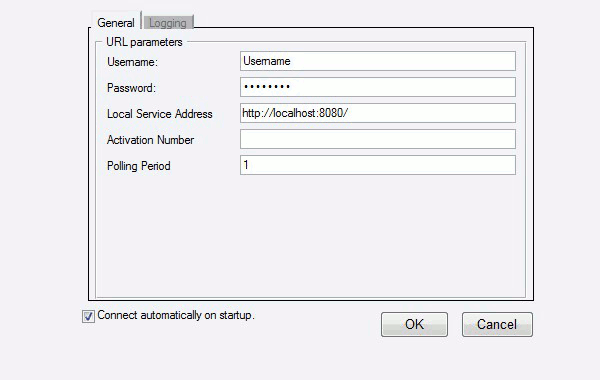 More information