How to send/receive MMS messages via EAIF
This article provides you detailed information on how you can send/receive MMS messages via EAIF protocol with the use of Ozeki NG SMS Gateway. MMS messages are delivered over HTTP protocol to the MMSC and to users. This solution allows easy connection to the MMSC for service providers and ensures value-added services for users.
Introduction
EAIF (External Application Interface) is an interface that makes easy and efficient MMS sending/receiving possible in a way which satisfies the needs of service providers and subscribers. It is due to the fact that service providers are able to connect to the MMS center easily via EAIF. Furthermore, end-users can enjoy high-quality services provided over EAIF.
EAIF is based on OMA (Open Mobile Alliance) standards. It uses PDUs and HTTP extension headers to ensure that all information is conveyed. This solution allows to send/receive MMS messages from your PC to mobile devices and vice versa. In MMS (Multimedia Messages) you can transmit information in various formats. You can send plain text messages, images (JPEG, GIF, etc), Audio clips, Video, vCalendar, vCard, etc. In this way you can further extend and improve corporate communication. To achieve this function you need to download and install Ozeki NG SMS Gateway.
To be able to send/receive MMS messages via EAIF with Ozeki NG SMS Gateway first you need to connect your SMS gateway to the MMS center of one of the service providers. You can connect directly to the MMS center of service provider over the Internet (IP SMS connection). This IP SMS connection will provide you a reliable and stable performance via EAIF. Please note that you will need a contract with the selected mobile service provider to be able to connect to its MMSC. After the agreement the service provider will provide you the necessary information and parameters needed to the connection.
Configure Ozeki NG SMS Gateway
Before you start to configure Ozeki NG SMS Gateway, you need some parameters from your service provider such as "Nokia EAIF server address".
To configure Ozeki NG SMS Gateway, first start the software and login with your username and password. On the left side of the user interface click on "Add service provider" (Figure 1).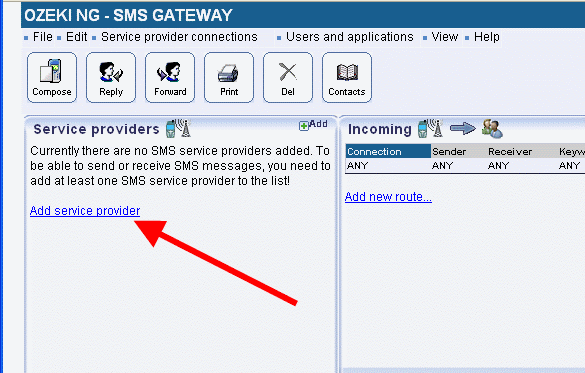 A list of available service provider connections appears. Select "EAIF Connection" in the list and click on "Install" next to it (Figure 2).

In Configuration pane select "General" tab. On this tab you need to specify connection parameters for the EAIF submission of MMS messages. These parameters are provided by your service provider (Figure 3). Specify the following parameters:
"Listening address": you will be able to receive MMS messages via this port
"Nokia EAIF server address": MMS messages will be sent out to this address
"HTTP username" and "HTTP password": optional. You only need to provide these parameters if you send MMS messages over HTTPs
"Sender ID": it can be a telephone number.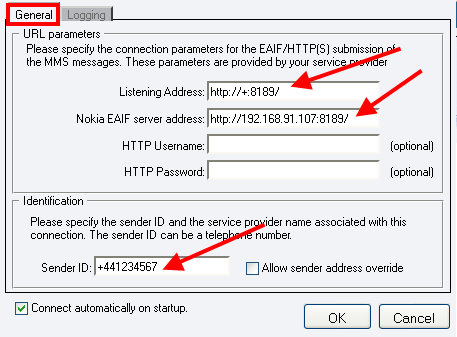 In "Logging" tab you can leave the settings unchanged if you content with the default ones. Click on "OK" (Figure 4).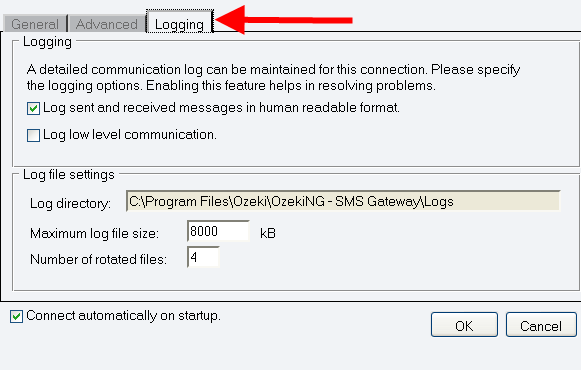 Compose MMS message
Now you can start to send MMS messages from Ozeki NG SMS Gateway. To do so you just need to click on "Compose" icon in the toolbar (Figure 5).

Select "Multimedia Message (MMS)" from "Message types" (Figure 6).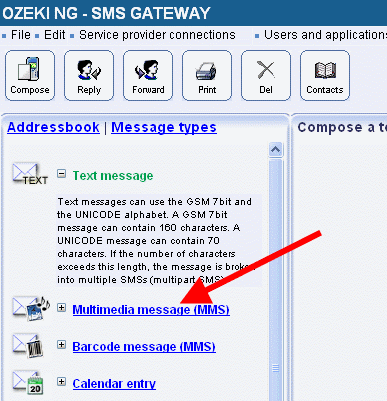 Then you can start compose your message. To send your message you need to provide the message type, and a recipient phone number. After this specify your subject and compose your text message. Finally, browse for an attachment and click on "Send" (Figure 9).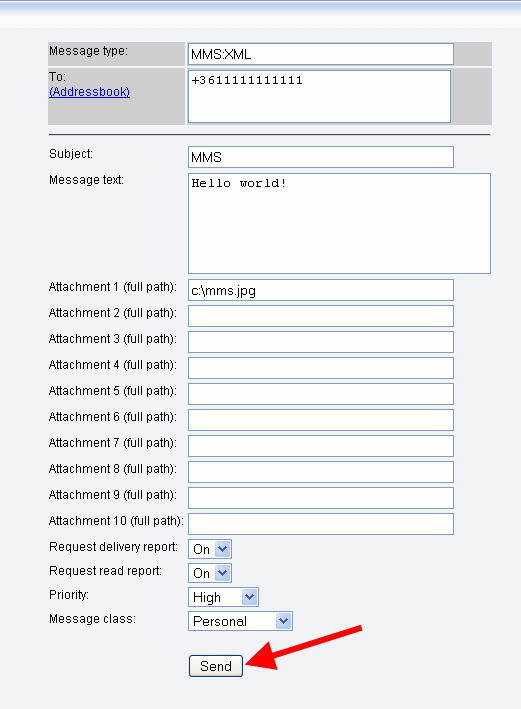 If you have not downloaded Ozeki NG SMS Gateway yet, please go to the download page where you will find all the necessary download information.
More information