---
SMS short code
In this guide we give you information about how you can send and receive SMS messages using a shortcode number with the SMS Gateway.
Introduction
IP SMS connections, such as SMPP, CIMD2, HTTP and UCP/EMI allow you to use a shortcode number as the sender address in your SMS messages. A shortcode number is usually a 4 or 5 digit telephone number (for example: 3344). You receive this telephone number from your SMS service provider, when you sign up for their service.
If you have a shortcode number assigned to your SMS service, you can also receive SMS messages. The mobile phones can send an SMS message to your short code.
Limitations
Shortcode SMS numbers cannot be used if you use a GSM modem attached to your computer (with a phone to pc data cable) to send and receive SMS messages. If you use a GSM modem, the standard (long) telephone number can be used, that belongs to the SIM card in the GMS modem.
A short code number can only be used in a single country or a single GSM network. SMS messages sent to or from a shortcode are not routed between countries and GSM networks. This means, that mobile phones that are roaming, or that are using a different SMS service provider cannot be reached.
How to configure
It is very easy with the Ozeki NG SMS gateway to use a shortcode SMS number. You can configure it on the configuration form of the service provider connection. You must enter the shortcode into the telephone number field (Figure 1).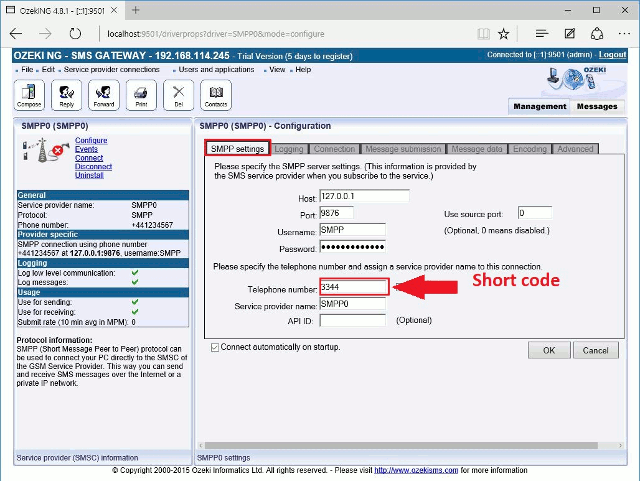 More information
---
---