SMS Gateway - IP SMS Connection Timeout
This guide gives information on why you receive the following error message when you try to setup an IP SMS connection, such as an SMPP, UCP or CIMD2 connection. The guide also gives the recommended way to handle this problem.
Error message:
ERROR 1312: TCP connection error. Failed to connect to server: 212.31.45.110:7089 (A connection attempt failed because the connected party did not properly respond after a period of time, or established connection failed because connected host has failed to respond 212.31.45.110:7089)
Reason #1:
This error message can happen because you have mistyped the "Host:" or "Port:" setting in the service provider configuration form. For example if you are configuring an SMPP connection, you might have put an invalid IP address or Port name into the configuration form (Figure 1).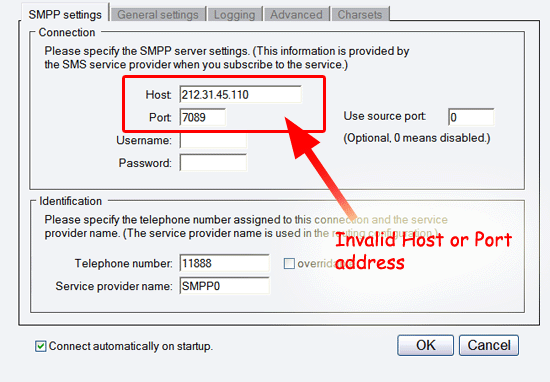 To fix this problem, consult with your service provider and verify the IP address and the port they have given you when you have signed up for the SMS service.
Reason #2:
The second reason can be an invalid firewall setting. In most cases the short message service center (SMSC) of your service provider will be behind a firewall (Figure 2). When the service provider gives you connection details they should also allow your computer on their firewall to connect to their SMSC. Sometimes they forget to update their firewall settings.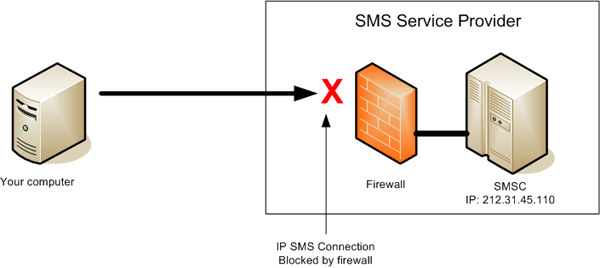 To resolve this issue, you should call them and make sure they have updated their firewall to allow your computer to connect to their service.
More information